Déjà Vu Utilities v. 1.1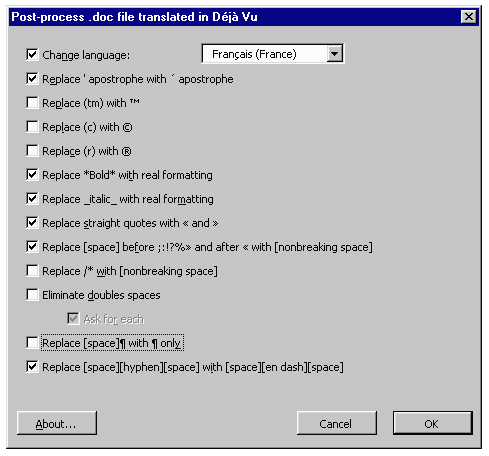 This utility is designed to post-process Microsoft® Word files translated in Déjà Vu Interactive, especially for people translating into French. It allows you to perform some standard shearch/replace operations, accelerates the insertion of hard spaces, and solves the impossibility to apply basic formatting in Déjà Vu (other than the original one in embedded codes) .
This set of macros adds a new toolbar to Microsoft® Word ("Déjà Vu Utilities") which also includes a function to color the 2-column tables (and embedded codes) according to Déjà Vu's color pattern.
Changes in version 1.1
Fixed bug in replacement of straight quotes (they must not be preceded or followed by spaces, though).
Features:
For Microsoft® Word 2000
Written in Visual Basic® for Applications
Freeware
Easy to install (installer included)
Installed as a Word add-in (template)
Winzip® file containing two Word documents (58 Ko)
For Déjà Vu users
Installation:
Unzip the files in any directory.
Open Microsoft® Word 2000.
Temporarily disactivate Macro Protection (Tools -> Macros -> Security).
Open "InstallDejaVuUtilities1.0Wd2000.doc".
Important: If you can't see the new "Déjà Vu Utilities" toolbar, choose Toolbars from the View menu, and click on Déjà Vu Utilities.
For any comments, bug reports or assistance, write to: info@xp-internet.com
Disclaimer: The author gives no warranties as to the use or performance of this macro .

05 53 58 60 84 Copyright © 2007-2023 - Xavier Pitel